Newsflash COVID-19: Book your stay with peace of mind
In the event that your stay has to be cancelled for one of the following reasons
*

:

>> Administrative closure of the campsite on the dates of your stay,

>> Confinement of your place of residence or of our region during the period of your stay,

>> Closure of the borders on the dates of your stay for foreigners,

>> Any other measures taken by the government to fight against the Covid 19 prohibiting you from coming to the Camping la Peyrugue on the dates of your stay.
We will give you the possibility to choose between :
⇒ Either the deferral by a credit note of the sums paid for a next stay at Camping la Peyrugue to 2021 -2022 or 2023.
⇒ Or the refund of a deposit (excluding any cancellation insurance taken out – administration costs )
For people who have already booked and have to pay the balance of their stay:
You can wait until the official opening date to send us the balance or the deposit of your stay.
So don't delay in booking your holiday. Don't wait until the last minute, as you may not have a choice of accommodation this summer.
* These special conditions do not apply in case of illness at Covid 19, contact cases, etc. We therefore advise you to take out cancellation insurance (see below). Similarly, reasons for cancellation due to restrictions, curfews or closures of tourist facilities (restaurants, museums, tourist sites, festivals, shows, etc.) are not admissible. Apart from the reasons listed above, the conditions for cancelling or modifying stays are governed by the general terms and conditions of sale of La Peyrugue campsite in force at the time of your reservation.
Cancellation insurance with Covid 19 extension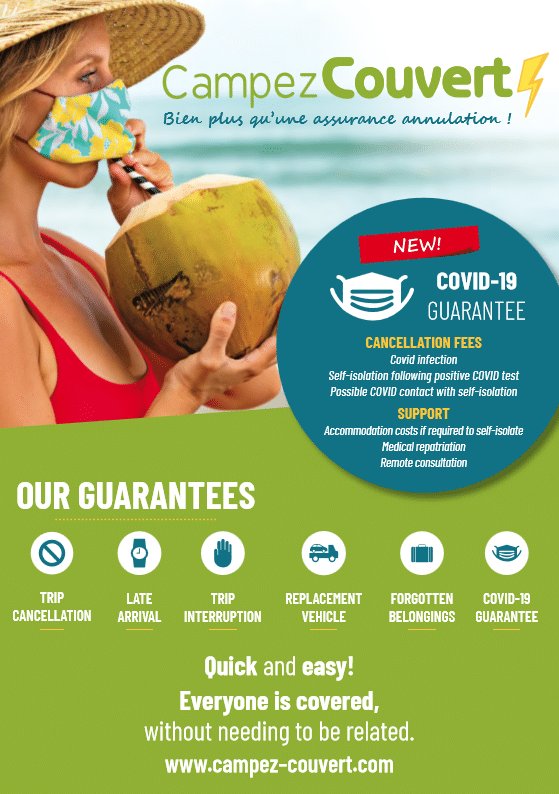 We recommend that you take out cancellation insurance (optional) which covers situations related to a pandemic. We offer you the cancellation insurance Campsite-Covered.
To benefit from it, you must have taken out this insurance at the time of your booking.
Paid with your deposit, it costs 4.2% of your stay.
The Campeg Covered insurance applies not only in case of cancellation of your stay, but also in case of late arrival, interruption of your stay, need for a replacement vehicle, or if you forget an object.
Since this year, the Campez Couvert insurance covers situations related to Covid 19: Covid 19 patient, positive test, quarantine, contact case, person requisitioned by the authorities in the fight against Covid, etc.
Find all the general conditions of the Cancellation Insurance Covered Camp 2021 Covid19 Extension.
If you want to book now, you can !
To save you an extra hassle, no deposit will be asked when you book during the confinement.
You can contact us by phone on 00 33 5.53.28.40.26 or by email campinglapeyrugue@gmail.com, Déborah will be happy to help you book a pitch or a rental.
When the opening date is official we will send you an email to proceed with the payment of the 25% deposit, instead of the usual 50%, within 10 days.
Be serene when you come to us
We look forward to welcoming you to our family campsite in the Dordogne. A little piece of paradise near Sarlat but far from the crowds.
We do our utmost to offer you all the guarantees of sanitary security and to always keep the best level of services and welcome.
We will set up a sanitary protocol, i.e.: bottle of hydroalcoholic gel in the sanitary facilities and reception, washing the sanitary facilities regularly, we will encourage take-away sales at the snack bar.
Of course, we will listen to the advice of all concerned. Our priority will be to make sure that you come with complete peace of mind.
Thank you for your support
So many of you have supported us either through nice emails, touching phone calls or adorable emoj via social networks. So thank you for your support, it warms our hearts and gives us a boost. We know your concerns about this virus but you still trust us.

We also understand people who wish to cancel their stay and we do our best to find a solution together.
Thank you to our holidaymakers who have understood the importance of accepting the postponement of their holidays from April and May.
We will be very pleased to see you again as soon as the confinement ends.

Desire for freedom
After the deconfinement, you will have largely deserved to disconnect from the news, to enjoy a Zen stay in the middle of nature, to indulge in relaxation, discovery and outdoor activities.
This desire for freedom will, we hope, bring you to us to breathe the fresh air of the Dordogne and make the most of the nature that surrounds you.
Our 6 ha campsite has pitches from 100m² to 160m².  A comfortable and pleasant space is very important to feel at ease and well being.
Restaurants in the Dordogne 
Gastronomic, traditional or Périgord takeaway menus are offered by restaurants in Daglan and the surrounding area. The restaurant owners do their best to keep their shops open and offer dishes to holidaymakers.
Take care and see you soon !!!
Déborah and Gilles
---
---