Little shop
In Daglan you will find a little supermarket, this is why we only provide "first aid upon arrival", and some regional products like our Bergerac and Domme wines.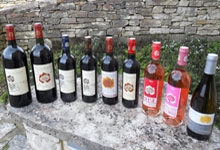 Order bread.



You can order bread very day of the week for the next day on a list situated at the bar. This will insure you fresh croissants and baguettes every morning!
Touristic information



We have brochures of every tourisitc attraction that you can take with you. In case of any specific questions, we are always available to help you!
Adjustments for disabled persons.



In the sanitary block, you will find adjusted toilets and a separate shower with sink for those who need it. The swimming pool is also accessible for wheelchair users, and our little pool can be entered by wheelchairs! We also have 2 chalets (Rêve Luxe model), which have been adjusted and meet the requierments for wheelchair users.
Washer and dryer.



In the sanitary block you will also find 2 washer and a dryer.You can collect coins at the bar or in our little shop. An ironing board is also available with the iron avaible for loan in our little shop.